Richard Jones lives and works in New Zealand.
Privacy Policy
This document is designed to:
To educate users about privacy issues
To inform users about privacy policies in effect on this site.
Logs
Our Web servers generate logs that contain the following information:
Internet address of computer being used
Web pages requested
Referring Web page
Browser used
Date and Time
Country of origin
Cookies
Cookies are small pieces of data stored by your browser and are used to remember information about your preferences. You can refuse to accept cookies, can disable cookies, and remove cookies from your hard drive. Please see your browser documentation for details. Cookies are essential to the proper behaviour of certain parts of our site.
Security and Accuracy of Confidential Information
We take all possible precautions to make sure your personal data is as secure and accurate as it can possibly be.
We do not pass on any of your information to any third party.
Purpose
We are committed to ensuring the privacy and accuracy of your confidential information. We do not share personal information gathered from our Web servers, unless required by the applicable laws of New Zealand.
Take care with personal data!
Any messages and other postings that are made on this site become available to administrators and other users logged into the same areas as you.
Be mindful when posting of the dangers of disclosing your confidential information in such places.
This should never be neccessary and, should anyone ask you for personal details, please contact the webadmin @ richardnz.net immediately.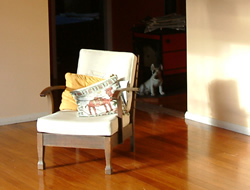 The Chair (and where DID that dog go?)