Richard Jones lives and works in New Zealand.
What's here?
Welcome to the personal space of Richard Jones (@richardnz) writer, blogger, eLearning Specialist and Moodle Guru. Links below take you to https://richardnz.net/ for the most part.
Here you can find additional information about me, mostly likely more than you need. I'm currently working on a number of projects with New Zealand organisations, including Moodle Partner HRDNZ and the TANZ eCampus project among others. Please also see my Linked In profile for recommendations. You can contact me using this form.
I blog here as well.
What's not?
IB Computing no longer exists. 16 years is like an epoch on the internet and the site was a fossil dinosaur. If you care, contact me and I can send you a zip of the whole thing.
I maintain a Moodle site here where you can find courses as diverse as Moodle 101, Moodle Design, Middle School ICT and IB Computer Science. The site also contains support for various publications such as the IB Computer Science text book and Managing the Moodle 2.5 School (published by Smashwords and available in the iBook store as well).
You can check out the pages for Tabitha Cambodia, New Zealand branch at Tabitha NZ. Tabitha is an organisation founded by Jan Ritskes supporting the poorest of the poor in Cambodia.
What's new?
I'm semi-retired now with an interest in eLearning projects of all kinds. Please feel free to contact me if you have an interesting project and deep pockets. I've just completed my first Moodle plugin here: https://moodle.org/plugins/filter_simplequestion.
Link to my complete bio.
At a Tabitha Cambodia building site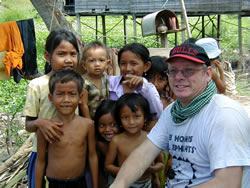 Latest book - Buy at Smashwords 4.99 USD
Email me richard (at) jonesnz dot com.